Bavarian beer, cuisine and culture combine to make this one tour of Germany you don't want to miss. Imagine singing along with tens of thousands accompanied by 'oom pah pahs', while locals clad in lederhosen and feathered hats dance on tables. This is Oktoberfest! Of course, this tour is not only about beer—it's also about sampling Munich's cuisine and culture. Your CEO will take the hassle out of organizing so that you're free to enjoy the party. Experience the lederhosen, the music and the friendliness of Bavaria—Ein Prosit!
Activities
Whats Included
Your Foodie Moment: Munich Brewery Tour and Tasting, Munich Your Big Night Out Moment: Oktoberfest, Munich. Munich walking tour. Local brewery tour. Oktoberfest activities. Traditional Bavarian dinner.
1 dinner
Local apartments (4 nts).
Metro, tram, walking
Chief Experience Officer (CEO) throughout.
16
Countries Visited
Revel in raucous Oktoberfest with new friends, dig into hearty regional fare, follow Bavarian beer from brewery to tankard and enjoy a tipple or two yourself, shop for lederhosen.
Days : 5
Price : From AED 4,436*
*Per person twin sharing and excluding flights
Trip Style : Basic
Trip Type : Individuals
Physical Grading : 2 - Light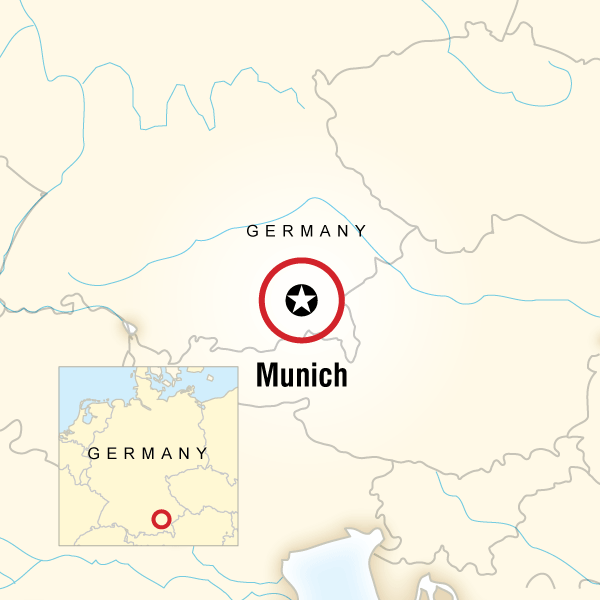 Trip Map
What to Take
We recommend using a backpack for your convenience, or a medium-sized suitcase if you prefer. A daypack is also essential for carrying everyday items. Space is limited on transportation, so there is a limit of one main piece of luggage per person. You will be responsible for carrying your own luggage. You must be prepared to carry your luggage up and down stairs, on and off transportation, and to hotels (max 15-20 mins.)
About Accommodation
Please note that the apartments on this trip are quite simple, in traditional European style. They are located a few metro stops from the Oktoberfest action, but our travellers tend to appreciate the quiet neighbourhood for sleep. It is important to note that accommodation in Europe tend to be quite different to other areas of the world you may have travelled in. Buildings and rooms are generally old and may not have been renovated or maintained to the highest standard. Downtown hotels in Europe were not build to be hotels but rich owners houses, which have been changed into hotels. Therefore unusual room sizes are common as large rooms have been partitioned in the past, resulting in rather "thin" walls.Reception areas, rooms and bathrooms tend to be very small as they were often added into an existing room, and may have a hand nozzle rather than a conventional shower head. Staff can occasionally demonstrate less than perfect customer service. As accommodation is in short supply, hotels can charge a premium and there is sometimes little motivation to improve facilities. You can expect to find a clean, safe, simple accommodation in convenient locations.
Local Dress
Meals
Eating is a big part of traveling. Travelling with G Adventures you experience the vast array of wonderful food that is available out in the world. Generally meals are not included in the trip price when there is a choice of eating options, to give you the maximum flexibility in deciding where, what and with whom to eat. It also gives you more budgeting flexibility, though generally food is cheap. Our groups tend to eat together to enable you to taste a larger variety of dishes and enjoy each other's company. There is no obligation to do this though. Your CEO will be able to suggest favourite restaurants during your trip.
Group Leader Description
This G Adventures group trip is accompanied by one of our CEOs (Chief Experience Officer). The aim of the CEO is to take the hassle out of your travels and to help you have the best trip possible. They will provide information on the places you are travelling through, offer suggestions for things to do and see, recommend great local eating venues and introduce you to our local friends. While not being guides in the traditional sense you can expect them to have a broad general knowledge of the countries visited on the trip, including historical, cultural, religious and social aspects. We also use local guides where we think more specific knowledge will add to the enjoyment of the places we are visiting - we think it's the best of both worlds.
Start Date - End Date
Availability
Price


*Per person twin sharing and excluding flights